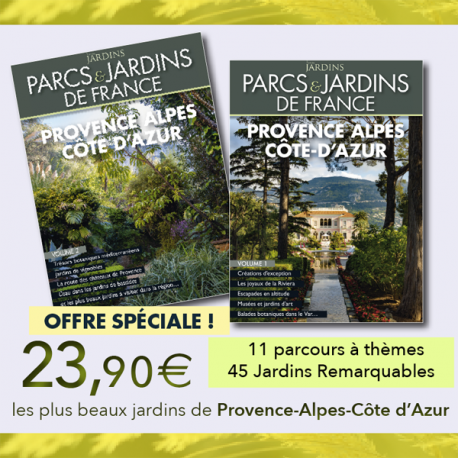  
2 Special issues Provence-Alpes-Côte d'Azur
Discover the four Parcs & Jardins de France issues at special prices.
Discover the four first issues of Parcs & Jardins de France at special price.

Real guides to discover the most beautiful gardens in our regions, with our thematic routes, a map of the places mentioned and gardens labeled Remarkable Garden, our reports and testimonials from actors in the garden world.

Benefit from the four publications at the special price of € 49 (instead of € 59.60 at unit selling price)
• CENTRE VAL-DE-LOIRE
• HAUTS DE FRANCE
• PROVENCE - ALPES - CÔTE D'AZUR - VOLUME 1

• PROVENCE - ALPES - CÔTE D'AZUR - VOLUME 2 (to be released end of January 2022)

These special issues are designed in partnership with the Committee of Parks and Gardens of France (CPJF), and include a special section of live information from the 32 departmental and regional associations of French parks and gardens.