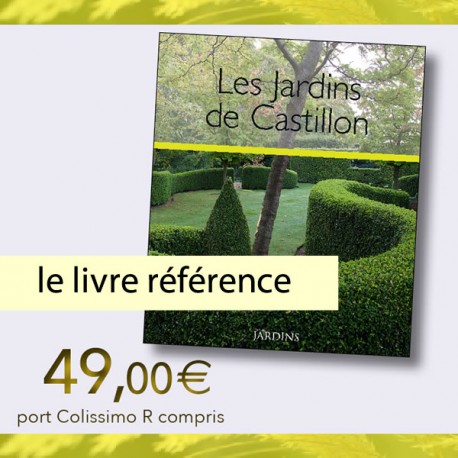  
Les Jardins de Castillon
LES JARDINS DE CASTILLON - CASTILLON'S GARDENS
This beautiful illustrated book recall the history of the creation of Castillon's gardens in Normandy by gardener and pioneering nursery woman Colette Sainte Beuve, making it one of the most beautiful gardens in France.
LES JARDINS DE CASTILLON - CASTILLON'S GARDENS
Colette Sainte Beuve started her gardens in the early eighties in the village of Castillon in the department of Calvados in Normandy, near Bayeux. These gardens reflect the personal adventure of a pionnering nursery woman who introduced in France many new plants and perennials coming from England and unknown at the time on the Continent. 
She made her first own gardens under the influence of famous english gardens like Sissinghurst to demonstrate the power of shrubs and perennials in a colourful garden. And then she brought a unique and spectacular vision, with the help of French artist François Houtin, who designed a serie of new gardens where she managed to introduce a perpetual renewal of flowers and foliage all around the years.
This beautiful book is largely illustrated with the numerous photos and texts of French garden specialists Marianne Lavillonnière, Jérôme Goutier et Philippe Loison. 
It describes the overall composition of every space of the garden, analyzing its subtility and its evolution in the course of the year, with details about its botanical richness, and its history from the beginning with rare documents from the Sainte-Beuve archives.
The book is translated in English
(the english text is incorporated along the pages, making it easy for readers to follow the descriptions and botanical references).
208 pages - 240 x 280 cm.